16-06-2009 | www.cluedupinhull.co.uk wins top Gold award at the national Local Government Association Awards
The Clued up in Hull website (www.cluedupinhull.co.uk) won the top honour in the 2009 digital media category, awarded for best enhancing the reputation of the local authority. Mair Education worked with Splinter Design and the children and young people of Hull to research, create the content and design the Clued Up in Hull website.
The website is aimed at two age groups; under and over 12s and provides Hull's children and young people with trusted online information. Judges at the Local Government Association Awards highlighted "they had really thought about their target audience and what their target audience wanted to hear and how they wanted to hear it."
With innovative features including 'Ask Nigel' where Nigel Richardson, Director of Children and Young People's Services at Hull City Council, assumes the role of Agony Uncle to the children and young people of Hull, Clued Up has been a great success. Sara continues to work with Hull City Council's Children and Young People's Service to develop content for the site, including campaigns such as 'Clued Up on sexual health', 'Clued up on cannabis' and 'Clued Up for summer' – highlighting activities during the school holidays.
2009 will see the second phase of the website developed which will include more interactive elements for young people to enjoy.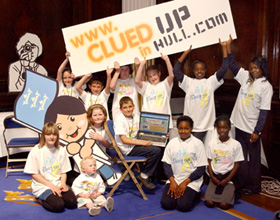 Posted by Sara Mair at 10:50:00 | 4 comments