Mair Education Background
After gaining a BA hons in History, Sara Mair, was employed by York-based QA Research to create multi-media educational resources for teachers and pupils on behalf of museums and visitor attractions in the UK and abroad.
Sara remained at QA for six years developing into the role of education specialist and her clients at QA included MLA Yorkshire, English Heritage, The British Tennis Association and Wimbledon – All England Lawn Tennis and Croquet Club, Futuroscope, The Tussauds Group, Learning and Skills Councils, The National Trust, The National Railway Museum and Historic Scotland.
Sara established Mair Education in 2005, utilising her extensive experience working with teachers, children and young people and community audiences for local authorities and the museums and archives sector.
Sara has since created resources and undertaken evaluations and feasibility studies for a wide range of clients from the museum and archive sector as well as children and young people services of numerous local authorities. Clients include Imperial War Museum North, The National Archives, Derby Museum and Art Gallery, Nottingham City Museums and Gallery, MLA East Midlands, Gwynedd Archive Service, Merseytravel, Hull City Council, Leicestershire County Council Environment and Heritage Services, Glamorgan Record Office and Castle Morpeth Borough Council.
Sara has provided enhanced disclosure with the Criminal Records Bureau and is therefore registered to work with children and young people.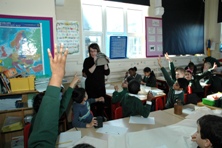 Copyright Nottingham City Museums and Gallery